World Hand Hygiene Day
10th May 2019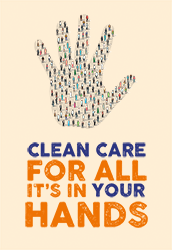 The 5th of May this year was the official World Health Organisations: "World hand hygiene day" and the Nurse and Midwife Education Consultants from the Clinical Education Centre (CEC) promoted the event at their Craigavon site with an interactive simulation stand and information on the event.
Brian Mc Enteggart, Nurse Education Consultant at the CEC commented:
"We strive to teach the importance of hand hygiene and all practices of infection prevention and control to all of the staff who pass through the doors of the CEC for educational programs relating to their own individual clinical practice".
The CEC has continued to deliver quality infection control training including the importance of hand hygiene to Nurses, Midwives, and Allied Health Professionals. We have also delivered the training to other BSO colleagues including equipment handlers and other associated personnel.
Good Hand Hygiene is everyone's business and everyone's responsibility to protect our service users, patients and ourselves.