World Aids Day 2022
Each year, on 1 December, the world commemorates World AIDS Day. People around the world unite to show support for people living with HIV and to remember those who have died from AIDS-related illnesses.
Each World AIDS Day focuses on a specific theme, which this year will be Global solidarity, shared responsibility. This year's theme joins a growing list of challenges that World AIDS Day has alerted people to globally.
World AIDS Day remains as relevant today as it's always been, reminding people and governments that HIV has not gone away. There is still a critical need for increased funding for the AIDS response, to increase awareness of the impact of HIV on people's lives, to end stigma and discrimination and to improve the quality of life of people living with HIV.
Data from UNAIDS on the global HIV response reveals that during the last two years of COVID-19 and other global crises, progress against the HIV pandemic has faltered, resources have shrunk, and millions of lives are at risk as a result.
In the UK over 105,000 people live with HIV. Yet recent research by the National Aids Trust has found that 63% of the UK public do not remember seeing or hearing about HIV in the past six months. Only a third said they have sympathy for people living with HIV regardless of how they acquired it.
World AIDS Day is the perfect time for us to raise much needed awareness about HIV and local activities are underway.
If you want to find out more about HIV and Aids you can apply to join one of our awareness classes.  Apply via the Programmes page.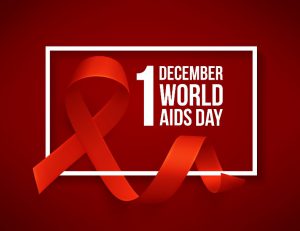 You can also join the BIG RED Walk across Northern Ireland on 01 December 2022.
Wear a RED ribbon, or something RED Get some exercise and show your support locally for people living with or affected by HIV.